Ljubljana is the capital of the Slovenia and it is also the center of the country on the map so impossible to not stop.
We have a short stop to visit this beautiful city. So we Park in the city centre which is not very expensive and we'll leave feet lost in the alleys of the old city.
After having skirted the Tivoli Park, we walked on "three bridges", observed the castle on the Hill and strolled the streets, passing in front of churches or even visiting exhibitions. One that caught our attention is the exhibition on "European green capital Ljubljana of 2016", which shows the changes and efforts done to make Ljubljana a greener city. Photos before and after shows the achievements made in Ljubljana to try to remove the most cars of the city to promote public transport, bicycles or pedestrians throughout the city center. Progress has also been made protection and conservation parks, wastewater treatment and waste management. Anyway this exhibition confirms what we feel, the Slovenia is a country that's very advanced environmental and who more and where life is good.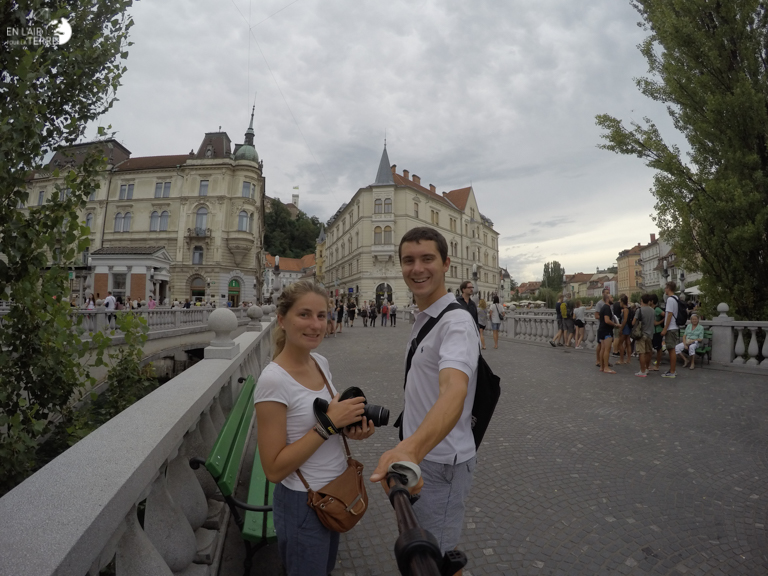 After our tour of the city we have a big hungry so we are looking for the best pizza in the city "pizza Ljubljana Dvor" thanks to the Yelp site. The pizza that is served to us is huge! 50 cm in diameter is: 1962.5 cm2 of pizza in our stomachs for 11.5 euros! Nicolas is like crazy.
Before night falls we make a last tour of the city before you go looking for a place to sleep. Many people sing, play music and we cross many revelers parade disguised. This atmosphere is great, we'd love to stay but the thunderstorm and lightning surprises us. Suddenly the rain falls on us so we run to the car, we get lost and we finished soaking wet but we can find her.
Useful info:
See:
the triple "Fun" emblematic Bridge: Adamič-Lundrovo nabrežje 1, 1000 Ljubljana, Slovenia
Robbov Vodnjak place: Mestni trg, 1000 Ljubljana, Slovenia
the St. Nicholas Cathedral of Ljubljana: Dolničarjeva ulica 1, 1000 Ljubljana, Slovenia
the castle: Grajska planota 1, 1000 Ljubljana, Slovenia
To eat:
Pizzeria Ljubljana Dvor along Ljubljanica.  Address: Dvorni trg 1, 1000 Ljubljana, Slovenia